¿Bailamos? Sensual mit Kizomba-Workshops am 13.07.2018 ab 20 Uhr im Projekt EINS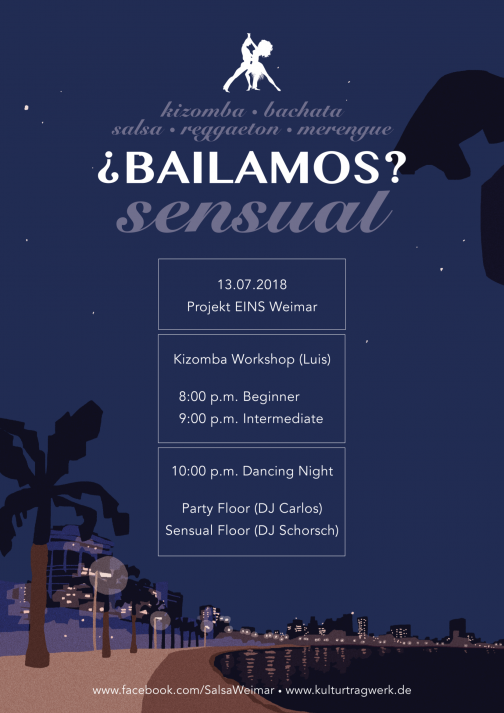 Am Freitag, dem 13. (uhhhhhhhh), findet das zweite Event unserer Serie ¿Bailamos? statt. Und diesmal wird es sinnlich. Los geht es mit zwei Kizombaworkshops (20 Uhr für Anfänger und 21 Uhr für Fortgeschrittene) mit Luis. Ab 22 Uhr startet dann die Party, erstmals auf zwei Floors. Auf unserem Partyfloor heizt euch DJ Carlos mit Salsa, Reggaeton und Merengue ein und auf unserm Sensual Floor wird es mit DJ Schorsch (DJ Schorsch) sinnlich mit Kizomba, Bachata und Salsa Romantica.
---
Friday the 13th (uhhhhhhhh) our 2nd event of the series ¿Bailamos? takes place. And this time it becomes sensual. We're going to start with two workshops of kizomba (8 p.m. for beginners and 9 p.m. of intermediate level) with Luis. At 10 p.m. the party will start, 1st time on two floors. On our party floor DJ Carlos will make your feet moving with salsa, reggaeton and merengue and on the second floor it will become sensual with DJ Schorsch with kizomba, bachata and salsa romantica.