2 Jahre Salsa im P1 am 27.05.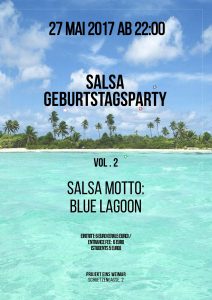 Wir feiern 2 Jahre- Geburtstag! Alle sind herzlich eingeladen!!! // We celebrate 2 years Birthday! Everyone is warmly invited!
Salsa Motto: Blue Lagoon (ob es um Strand, Sommerurlaub oder Meer geht, Ihr entscheidet) // (whether it concerns sunny beach, summer vacations or sea coast, you decide)
Glas Sekt für die erste 50 Gäste // Glass of sparkling wine for the first 50 guests. Ganz besondere Barkarte (Überraschung!Überraschung!!! // Very special offers at the bar ...und natürlich die beste Salsamusik! // ...and definetely the best Salsa music ever !!!