Party – Initiative für Flüchtlinge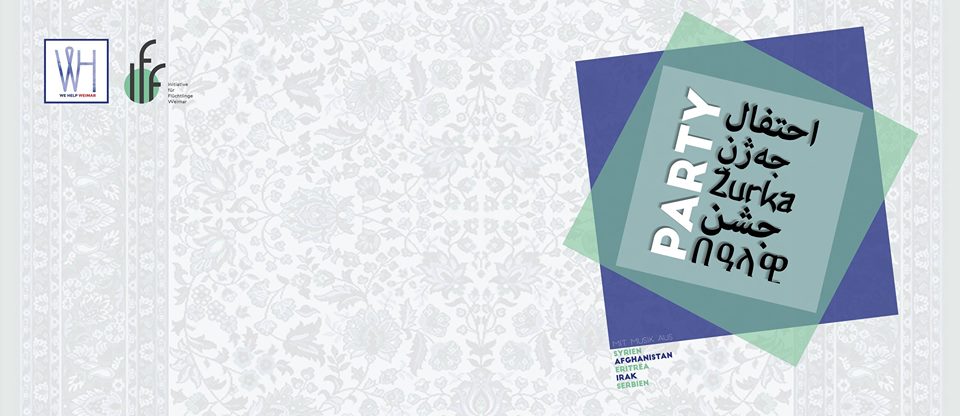 03.06. 21 pm, project one
Lasst uns tanzen zu Musik aus vielen verschiedenen Ländern!
- zu Musik aus Syrien.
Organisiert von WEHelp und der Initiative für Flüchtlinge Weimar. Kommt zahlreich! Familien sind herzlich willkommen. Ihr könnt gerne eure Kinder mitbringen! 🙂
Let´s dance!
Organized by WEHelp and the Initiative für Flüchtlinge Weimar.
Come in large numbers! Families are very welcome. Please bring your children! 🙂
لنرقص معا مع العديد من الأغاني والموسيقا المختلفة من البلدان المتنوعة
الموسيقى والأغاني ستكون متنوعة بين سورية وأفغانية وإريتيرية وعراقية وصربية ومن باقي بلدان العالم
رسم الدخول : 1 يورو
منظمي الحفل
نتمنى حضوركم
العائلات و الأطفال مرحب بهم*
بیاید به موسیقی رقص از کشورهای مختلف موسیقی از سوریه،وافغانستان،عراق،صربستان،واریتره ادامه مطلب جهان ثبت نام 1 یورو سازمان یافته توسطWEHelp وابتکار عمل برای پناهندگان وایمار بسیاری می آید.
فامیل های محترم شمارا به این محفل بسیار زیاد خوش آمدید میگویم.ولطفآ اطفال تان را با خودتان بیاورید تشکر به اومید دیدار.
Ajde te kela ki muzika kotar celo sveto.
kotar Sirija,afganistan,Eritreja,Srbija, em amari Romani muzika.
Samo 1 evro ka platine em, jaša tuče ka uživine.
i Žurka organizuini: WEHelp em i Inicijativa asko izbeglice oti Weimar. Aven te Khela!
Aven tumara familija,tumare cavenca,tumara romnjaja. Te Papuja te Babaja ili te tetkaja! Amen oto vilo tumen mangaja! adalese žurka tumendje četama! 🙂